Belly Button Piercing Removal & Reconstruction
Your belly button might seem like a small feature on the abdomen. But it still can have a significant impact on the cosmetic appearance of your stomach. Patients who have concerns with their belly buttons can find it challenging to wear clothes that reveal the abdomen. Beach days also can turn from relaxing into a nightmare. With belly button hole repair, you can restore the look of your navel easily.
Why "Repair" a Belly Button?
Belly buttons can go through a significant amount of strain over your lifetime. From birth onward, there are ample opportunities for it to become damaged or altered. Whatever your reason might be, our belly button hole procedure can help improve its look.
One of the most common reasons for repair is due to piercings that have become misshapen over time. However, you can also have a 'deflated' belly button following abdominal procedures, significant weight loss, or pregnancy. With the help of our belly button hole repair procedure in Beverly Hills, you can be beach-ready in no time!
Schedule your complimentary consultation to find out if this procedure is right for you. During your meeting, Dr. Gabby will work with you to design your ideal belly button repair procedure. He listens carefully to your goals and builds your treatment around them.
If we don't change, we don't grow. If we don't grow, we aren't really living.
Belly Button Procedures We Offer
In addition to piercing revision, we also offer a number of other options for those wanting to alter their belly buttons. Our options include repair procedures and cosmetic enhancements. The type you choose will depend on your unique situation.
These procedures include:
Umbilicoplasty refers broadly to any surgical changes to your belly button. More specifically, it means that you can change the size or shape of your navel to be more in line with what you want, aesthetically.
Umbilical Hernia Repair is for those who have an "outie" belly button and would like an "innie" belly button. Outie belly buttons can be something you are born with or could result from pregnancy or physical exertion.
Belly Button Revision for Tummy Tucks
We frequently provide this procedure alongside 
tummy tucks
 to ensure that your belly button is the size, shape, and position you want after your surgery.
Call today
for a consultation!
What to Expect from Belly Button Piercing Revision
Surgically closing up belly button piercings is a remarkably straightforward procedure. For most cases, it requires only a local anesthetic to keep you fully comfortable. From there, we will remove whatever tiny amounts of tissue are necessary to close up the hole without putting tension on the skin. We also place sutures below the level of the skin to ensure that the outermost layer of skin is under minimal tension. These are both steps we take to help minimize scarring while maximizing the results of your procedure.
After the outer layer of skin is sutured, the area will be cleaned and dressed to protect the site, and you will be ready to go! The entirety of the procedure generally lasts an hour or less.
Other belly button hole repair procedures follow a similar outline. During your consultation, Dr. Gabbay will let you know what exactly to expect with your surgery. In general, each belly button procedure is straightforward and low-risk.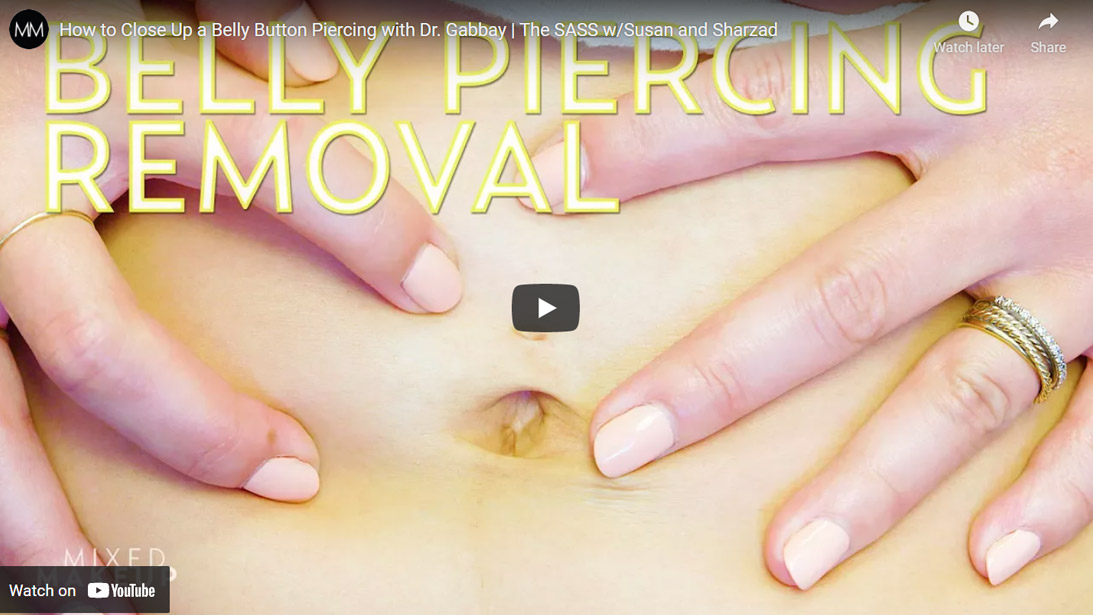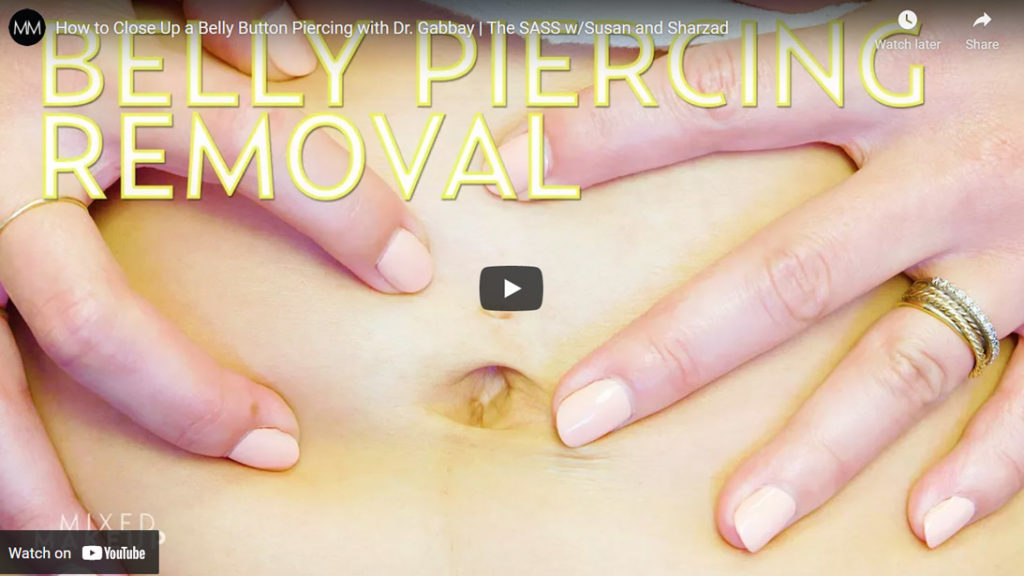 Belly Button Hole Repair Recovery
Your exact recovery will depend on your belly button procedure. However, most follow a similar outline. The recovery tends to be rather quick and requires minimal downtime for most patients. However, reducing strain on your belly button is vital for the best results.
Leave the dressing on for about 24 hours and treat the site regularly with antibiotic ointment. An adhesive bandage is not required but can help keep the ointment off your clothes while you heal. In about a week, you will return to the office to remove the stitches, at which point you can start a scar cream regimen to further minimize the appearance of scarring.
Choose a Board-Certified Plastic Surgeon
When you undergo any procedure, you want to work with the best. It is important to be certain the person performing your surgery has experience doing so successfully. At Gabbay 
Plastic Surgery in Beverly Hills
, our skilled surgeon understands both the technical surgery aspects of the treatments he provides and the aesthetic considerations as well. Even in an area so small, it is important to understand the underlying anatomy to provide beautiful results.
Schedule Your Consultation
Get back a belly button you can be proud of! Call our team today at (310) 205-9500 to schedule your consultation! We will walk you through the entire process and build your treatment around your needs. We look forward to helping you get a belly button that you can't wait to show off.