There are many reasons women choose breast implant removal surgery. A majority of these procedures occur for one of two main reasons. First, you may wish to alter the size or shape of your breasts for aesthetic reasons. Or you are experiencing complications with the implants.
Breast implants are not meant to be permanent. They may need to be changed after many years (often ten years or greater). These situations can vary and depend on a range of factors. Reasons for removal include:
Implant rupture
Capsular contracture
Personal aesthetic reasons
Whatever your reason, we are here to help you find your solution.
Dr. Gabbay's Breast Implant Removal Before & Afters
I like not only to be loved, but also to be told I am loved.
Although uncommon, capsular contracture accounts for the majority of explantation procedures. This condition happens when the body forms a tissue lining or "capsule" around the implant. As time goes on and symptoms increase, this capsule continues to contract and tighten. This causes deformity, discomfort, and potential pain. There are four levels of severity when it comes to capsular contracture:
Grade I: The breast still looks and feels natural, remaining shapely in appearance and soft in texture.
Grade II: The breast still appears normal but has begun to feel firmer.
Grade III: The firmness quotient is noticeably higher. The shape of the breast looks somewhat misshapen.
Grade IV: The breast has hardened. It appears deformed to a more extreme degree. It may also feel sore, painful, or tender at this level of contracture.
This condition can occur at any time during the implant's presence in the body. This can happen for both silicone or saline implants.
Implant rupture is also a possibility with either silicone or saline implants. However, it is important to remember that symptoms can differ. Some might be mild and unnoticeable at first.
Silicone implants are composed of a thick, cohesive gel. If a leak occurs, the gel can remain contained inside the casing or the scar tissue. This is an intracapsular rupture. In some cases, the gel extends outside of the implant capsule. When this happens, it can move into other surrounding areas of the breast, causing inflammation and lumpiness. Women whose silicone implants have ruptured may notice distortion, shrinking, and discomfort. If no symptoms are present, this is a "silent rupture."
Saline implants are saltwater-based. When a leak takes place, your body absorbs the saltwater. After this kind of leak, your breast will begin to deflate. This makes the condition noticeable almost immediately.
Many women also decide to remove their breast implants due to cosmetic reasons. These reasons include:
Breasts are too large or too small
Implants are asymmetrical
Results are not what they had hoped
Dr. Gabbay can help address and fulfill all of these preferences. Some patients also opt for a more natural approach to breast augmentation, such as fat transfer.
Uncommon complications that can happen as a result of breast augmentation include:
Ptosis (sagging)
Implant position changes
Breast Asymmetry
Calcification (calcium buildup)
Extrusion (implant becoming visible through the skin of the breast)
Necrosis (presence of dead tissue in the breast)
Seroma (fluid pooling)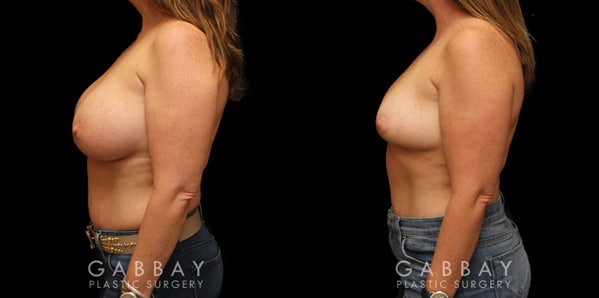 Your Options Following An Implant Removal
Fat Transfer Breast Augmentation
A fat transfer can be an excellent alternative to traditional implants. This process does not entail any external materials placed inside the body. Instead, Dr. Gabbay will take fat from other areas of the body. The fat is then purified and injected into the breasts to enhance volume. This creates the beautiful fullness of implants without any foreign materials. Fat transfer to the breasts usually doesn't result in the same amount of volume increase as implants can yield. However, they often come close.
If you don't want to augment your breasts, a simple 
breast lift
 procedure can be done on its own. A breast lift keeps your body looking natural and provides a sexy new contour. Proportion is key.
Some patients may be happy with implants but want an aesthetic change. In these cases, a 
breast revision
 may be a good choice. Dr. Gabbay removes the current implants and inserts new ones to match your new goals.
Before deciding which breast implant removal procedure is best for you, set up a consultation with Dr. Gabbay. He will answer all your questions and address your projected results. He will also check your medical history and current medications to ensure utmost safety. At this time, he will also discuss the estimated cost of your options.
Pre-operative Information
Preparing correctly for an operation is key for optimal results. Patients should stop smoking, for starters. But also avoid taking aspirin and other blood thinners well before surgery. Dr. Gabbay may also ask you to adjust or stop taking other prescription drugs as well. Our goal is to avoid all complications during the procedure and recovery process.
Patients should arrange for a family member or friend to pick them up from surgery. After surgery, patients cannot drive on their own. Dr. Gabbay will provide you with more detailed instructions during your initial consultation.
Breast Implant Removal Procedure
Dr. Gabbay performs the breast implant removal procedure on an outpatient basis. In most cases, he uses general anesthesia to ensure patient comfort. After creating the incision, Dr. Gabbay will remove the old implant and capsule. He will then revise the surrounding tissue as needed. The incision traces the old incision location from your previous breast augmentation surgery to scarring to a minimum. Dr. Gabbay will then proceed with one of three options:
Replace the explanted one with a new silicone or saline implant
Inject a purified fat graft to augment the breast without an implant
Perform a breast lift to boost and tighten the skin and reshape the breast
Patients with smaller breasts may not need a breast lift after removal.
Breast Implant Removal Recovery
Recovering from breast implant removal surgery is similar to standard augmentation surgery. Plan to have a friend or family member take you home after surgery, and be sure to spend a few days getting rest. Avoid physical activity for at least four weeks. Avoid alcohol and smoking during the entire healing period.
As with the initial implant surgery, results should be visible immediately. Once the swelling and bruising heal, your final results will become more noticeable. You may take pain medication prescribed by Dr. Gabbay to control any discomfort. Breast implant replacements should last about ten years. For fat transfer, results will shift somewhat over the following weeks as the fat cells adapt to their new environment. For breast lift patients, results are permanent but still subject to the effects of aging.