Breast augmentation is an amazing way to enhance the size and aesthetic of your breasts. Modern advances in breast implant technology make this procedure safer and more effective than ever before. Now more than ever, it enables patients to achieve beautiful, natural-looking results that can boost their quality of life.
Dr. Gabbay knows that breast augmentation is a very personal choice and that each woman has unique needs and goals for her surgery. For this reason, he takes the time to educate and inform his patients thoroughly. You want to make a well-informed decision when contemplating your breast enlargement surgery.
Dr. Gabbay's Breast Augmentation Before & Afters
Things To Consider When Choosing Breast Implants
Knowing where to start may seem daunting. And choosing the perfect size, profile, and type of implant for your surgery may feel like an overwhelming task. However, you do not need to make these big decisions on your own.
During your consultation, Dr. Gabbay will offer his thoughts on your breast augmentation. This takes into account all of the pertinent details, including:
Current breast size
Height
Weight
Skin quality
Individual preference
If we don't change, we don't grow. If we don't grow, we aren't really living.
Factors To Consider For Breast Enlargement
There are many factors to think about when considering breast augmentation surgery, including:
We measure implants in cubic centimeters (ccs). They range from approximately 120cc to 960cc.
The profile specifies the distance that the implant projects from the body. Higher profile implants result in more prominent silhouettes than lower profile implants. Implant shapes can vary between round and tear-drop shaped.
Inframammary: under the breast
Periareolar: Around the lower half of the areola
Transaxillary: In the underarm
Transumbilical, or TUBA: In the navel area
Submuscular placement rests under the chest muscle. Submammary or Subglandular placements rest between the chest muscle and breast tissue.
Dr. Gabbay inserts saline implants into the body in their empty form. He then fills them with a sterile saline solution. Silicone implants are pre-filled with silicone gel. The gell consists viscous fluid simulating the texture and feeling of human breast tissue. You also have the option of standard versus cohesive (gummy bear) silicone gel.
Is Breast Augmentation Surgery Right For You?
Breast augmentation surgery is one of the most common cosmetic procedures performed today. It is undertaken for multiple reasons, including (but not limited to)*:
Increase breast size
Correct asymmetrical breasts
Enhance lost breast volume after pregnancy and breastfeeding
Augment breast size after significant weight loss
Correct imbalanced body proportions
With breast reconstruction surgery after mastectomy or injury to the breasts
In conjunction with breast revision surgery after complications from a previous breast surgery
Along with a breast lift, to add volume and fullness while correcting breast sagging.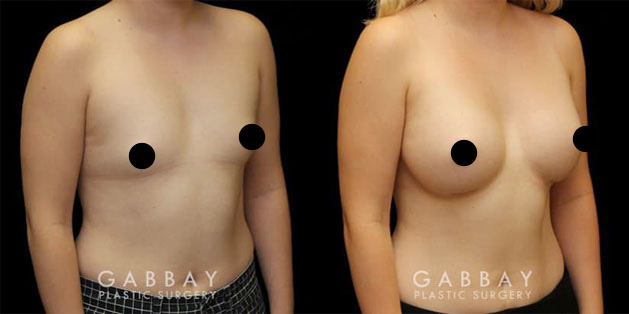 What To Expect From Your Consultation
Scheduling a personal consultation with Dr. Gabbay is the first step. During this consultation, he will go over all your concerns and expectations. Following your medical history evaluation, Dr. Gabbay will determine if you are a healthy candidate. He will then discuss your breast augmentation options. This includes:
Incision type
Implant placement position
Implant size and shape
Potential complications
Implant profile
To help you get a true sense of what your new implants will look and feel like, you will be able to test various implant samples. This enables you to determine which specific implant will best fit your body.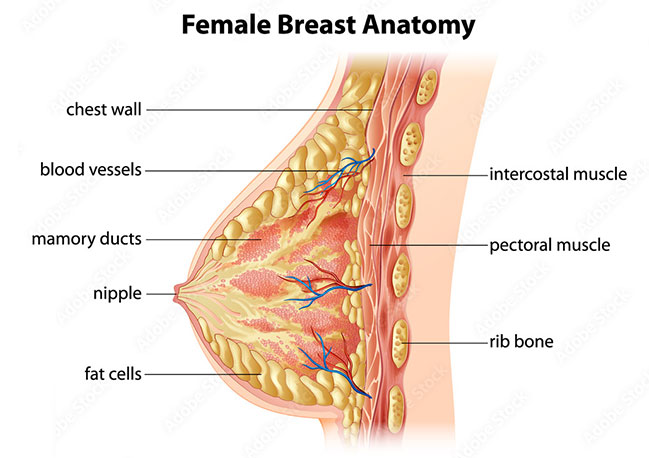 Call today
for a consultation!
Breast Augmentation Options
There are many choices to consider when undergoing breast augmentation surgery, including:
Some breast implants are encased in a solid silicone rubber outer shell (lumen) that may either be smooth or textured.
Implants can be round or anatomical (tear-drop). Tear-drop implants create a natural sloped shape when placed over the chest muscle. They are considered the closest resemblance to the natural breast shape. Tear-drop implants must be positioned precisely to prevent implant rotation. This is why they are only offered as textured implants, as the rougher texture helps the implant adhere to the breast tissue. Round implants create fuller breasts with a higher lift and a more significant amount of cleavage. Round implants are offered in both smooth and textured choices. If the round implant moves inside the breast pocket, it will not change shape.
Implants can be composed of either saline or silicone. Saline implants are filled with a sterile saltwater solution (non-toxic to the body). All silicone breast implants are pre-filled with a cohesive gel. Newer, silicone implants ("gummy bear" implants) are also available and have added options for patients to choose from. Silicone implants are less likely to ripple than saline implants. Many patients believe that silicone implants more resemble the feel of natural breast tissue. The ultimate choice of saline vs. silicone comes down to personal preference. It's about which option is best for each patient's unique situation.
The profile of a breast implant determines how far the implant will protrude from the chest wall. We offer implants in four different profiles: low, moderate, moderate plus, and high. The higher the implant profile, the more they will project from the chest. In general, high profile implants are best suited for women with narrow chests. Low profile implants are better choices for women with wider frames.
Implant size refers to volume and is not measured by bra cup size (A, B, C, D, etc.), but rather in cubic centimeters (cc). This is the metric volume measurement used to define the capacity of a breast implant. |One cubic centimeter is equal to one milliliter. Breast implant sizes for both saline and silicone implants range from 120-850cc.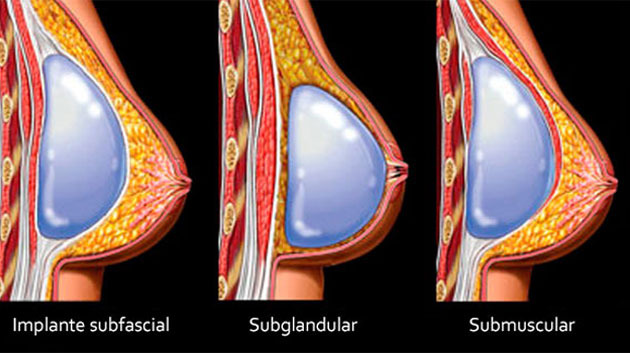 There are several options for implant placement. Placement impacts the size and shape of the final aesthetic. These options include:
SUB-GLANDULAR (OVER-THE-MUSCLE)
For this technique, Dr. Gabbay places the implant directly behind the mammary gland. Also, the doctor puts it under the fatty breast tissue in front of the pectoral muscles. The sub-glandular option typically provides more projection. This is suitable for women who have a sufficient amount of natural breast tissue to cover the edges of the implant.
For this placement option, Dr. Gabbay places the implant beneath the fascia of the pectoralis major muscle.
SUB-PECTORAL/SUB-MUSCULAR (UNDER-THE-MUSCLE)
With this technique, Dr. Gabbay places the implant underneath the pectoral muscle. This option is better for women who do not have sufficient natural breast tissue to cover the edges of the implant.
Breast augmentation procedures we provide in Los Angeles
can help our patients to feel more confident than ever.
Call us today at (310) 205-9500 to get started.
Details Of The Breast Augmentation Procedure
Dr. Gabbay typically performs breast augmentation as an outpatient procedure following these steps:
Dr. Gabbay will mark your breasts for incision locations and general measurements. These will serve as visual aids during surgery.
Dr. Gabbay will administer anesthesia will and prepare you for surgery. However, in some cases, you may elect for "twilight" sedation through an IV.
Once anesthetized, Dr. Gabbay will make an incision. After Dr. Gabbay makes the incision, he uses a special surgical tool to create a pocket for the implant. Once Dr. Gabbay creates the implant pocket, he inserts the implants into position. After insertion, Dr. Gabbay checks for symmetry and proper placement. satisfied with the placement and symmetry of your breasts
After Dr. Gabbay is satisfied with the placement and symmetry of your breasts, he will perform a multiple-layer suturing procedure. First, he closes the deeper tissue, and then the surface incision itself. A surgical bra and compression band will be applied over the top of the breasts. This will stay on for 1-4 weeks to help the breast implants settle properly into their new pockets.
Breast augmentation surgery generally takes 1-2 hours (depending on the complexity of your procedure or combination of methods). You will spend the first few hours after surgery in the recovery room. When you are fully alert, you will be released to a family member or friend who will drive you home. We suggest that you arrange to have someone help you for at least the first few days after surgery*.
Breast Augmentation Recovery
Because Dr. Gabbay uses state-of-the-art techniques for breast augmentation surgery, discomfort is at a minimum. Any pain can typically be managed with medication. Most patients find any significant discomfort passes within a few days.
After your surgery, you will notice more tenderness and fullness around the chest region. And it takes time for your body to adjust to the implants. We advise sleeping with your head and back elevated to reduce the swelling in your chest region.
Shortly after surgery, you can remove your surgical bra and dressings to shower. However, you may need to wear the supportive bra for several weeks.
Dr. Gabbay will provide you with complete instructions for recovery and optimizing results. You will have a follow-up appointment with Dr. Gabbay one to three days after your surgery. And we are always available for additional questions. Every step of the way, we are here to ensure your recovery goes smoothly and you achieve the results you desire!
Most patients resume light activities shortly after surgery (within several days to one week). You may continue light exercise within one to two weeks. Avoid lifting heavy objects and strenuous activity for 4-6 weeks. These activities can slow the healing process.
Schedule Your Consultation Today
Gabbay Plastic Surgery
 today. We are happy to answer your questions and schedule an initial consultation with Dr. Gabbay. Dr. Gabbay works closely with each patient, as he believes full communication is key to achieving the best results possible.
From the moment you enter the doors of Gabbay Plastic Surgery's state-of-the-art facility in Beverly Hills, you will feel a sense of calm reassurance. We want you to know that you have chosen the best possible location for your cosmetic surgery in Los Angeles. Call us today to get started on your breast augmentation with a personal consultation. We look forward to helping you reach your aesthetic goals and truly shine.
Call today for a consultation!