HELPING WOMEN REDUCE DISCOMFORT & BOOST CONFIDENCE
For many women, the condition of large breasts can cause many physical and aesthetic complications. At Gabbay Plastic Surgery, we offer breast reduction surgery. Also called reduction mammoplasty, this as an option to decrease the size of one's breasts. At the same time, you can make the breast size more proportional to the rest of the body by surgically removing excess breast tissue, fat, or skin.
What is Breast Reduction About?
Large breasts often come with several complications. Common issues include:
Chronic back pain
Headaches
Breathing problems
Poor posture
Neck strain
Skin irritation
Deep, painful indentations from bra straps
Breast size may also inhibit lifestyle choices. For many, they make physical activity, sports, and exercise incredibly challenging. The end result is decreased mobility and increased potential for weight gain.
Breast reduction aims to reduce breasts to a comfortable size and restore balance to your body. The procedure can also address concerns with the nipple. You can reposition it to a cosmetically appropriate position and address the issue of enlarged nipples.
The American Society of Plastic Surgeons (ASPS) classifies breast reduction surgery as a reconstructive, rather than cosmetic, procedure. The reason is that it is most often performed to correct a physical or medical problem, rather than strictly to improve one's appearance.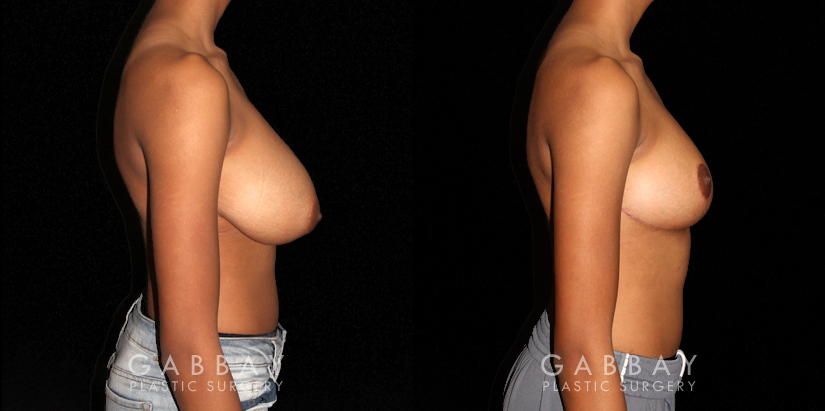 Types of Breast Reduction Surgery
During your Beverly Hills breast reduction surgery, Dr. Gabbay reshapes your breast with several steps. First, he removes the necessary amount of fat, tissue, and skin from your breast. He then reshapes your breast to better match your specific body size and shape.
There are many different types of breast reduction surgery. Your unique procedure depends on two things. First, the amount of reduction needed to restore your breast health. Second, we consider your specific reduction mammoplasty aesthetic goals.
Common breast reduction surgical techniques include:
Inferior Pedicle Technique
Breast reduction is performed by making an incision along the border of the areola. The result provides a youthful lift to the breast.
Vertical Technique
One of the goals of this technique is maintaining the functionality of the nipple.
Horizontal Technique
This procedure works best for women whose breasts are too large for the vertical scar technique.
Standard Breast Reduction
This procedure involves three separate incisions. It is best suited for women with large breasts suffering from severe breast sagging.
Free Nipple-Graft Technique
This technique allows large amounts of tissue to be removed. However, this technique does leave the nipple without functionality.
Liposuction
Liposuction is an effective technique for women who only need a small amount of tissue removal. It can be performed along with other breast reduction techniques.
Indications that You May Be a Breast Reduction Candidate
Breast reduction surgery can address and correct many health complications resulting from enlarged breasts. Some common concerns include:
Loss of sensation in the arms or fingers
Scar-like lines on the breasts
Chronic back pain
Headaches
Shoulder and neck pain
Poor posture
Bra-strap grooves
Numbness in the breasts or upper chest
Skin rashes under the breasts
Inability to exercise and restricted movement
Pendulous breasts with nipples and areolas that point downward
Asymmetrical breasts
Self-consciousness about breast size
If you have any of the symptoms listed above, you may be a good candidate for breast reduction surgery. However, the ideal Reduction Mammaplasty candidate must be in good health and have good skin elasticity. Also, they should have no current or pre-existing medical conditions. Signs you might need to wait for breast reduction surgery include:
Smoking
Blood clotting disorders
Heart or circulatory disorders
Your Consultation
The first step is to call Gabbay Plastic Surgery and schedule a consultation. During your visit, Dr. Gabbay will:
Discuss specific surgical goals
Cover your detailed medical history
Assess your physical and emotional health
If breast reduction surgery is a good option for you, Dr. Gabbay will explain what your procedure will look like. He will go over:
How much breast tissue should be removed to achieve your desired outcome
Techniques that will be used
Detailed instructions on how to prepare for the surgery and plan for your recovery
You will be encouraged to voice any concerns in an open discussion. This way, you and Dr. Gabbay can reach an understanding of the best treatment options to achieve the goals you have in mind. He will then create a customized treatment plan based on:
Size and shape of your breasts
Quality of your skin
Position of your nipples
Your individual needs
Breast Reduction Details
Breast reduction surgery is typically performed on an outpatient basis. During the procedure, you will be under general anesthesia. Depending on the extent of reduction, it can take 2-3 hours to complete.
Once the incision is made, Dr. Gabbay will remove excess skin, tissue, and fat. He then shifts the nipple-areolar complex to a higher position for cosmetic purposes. Excess fat may also be removed through liposuction or other techniques. Drainage tubes will be inserted at the end of the surgery to drain fluid. These are removed 1-2 days after your surgery. The incision site will then be sutured with dissolvable stitches. We wrap your breasts in special gauze before you are taken to the recovery room.
Recovering from Breast Reduction
After your breast reduction surgery, you may experience pain and discomfort. These can be controlled with pain medication as needed. Following surgery, your breasts will be significantly smaller. However, the final shape and size may not be evident until healing is complete. Full results usually take up to six months.
Dressings should be kept clean and dry for at least 1-2 weeks to assist with optimal healing. Also, you will need to wear a support bra for at least six weeks. Numbness can occur on the nipple and surrounding breast area. But in most cases this is temporary.
While healing, you will need to rest and limit movement. Doing so speeds up the healing process and reduces recovery time. You may feel tired for 1-2 weeks and should plan to take off at least one week of work. Avoid heavy exercise for at least six weeks. However, light activity (i.e., walking) will help in your recovery. After several weeks, bruising and swelling will diminish. After a few months, you should be able to resume most of your regular activities.
Breast reduction surgery is generally a very safe procedure. However, rare complications include:
Inadequate healing of the nipple area
Blood clots
Bleeding
Infection
Adverse reaction to anesthesia
Schedule a Consultation
At Gabbay Plastic Surgery in Beverly Hills, Dr. Gabbay and his dedicated team are committed to helping you achieve your aesthetic and medical goals. They tailor your treatment plan to meet your unique needs and objectives. If you would like additional information about breast reduction surgery, please contact Gabbay Plastic Surgery today.
At Gabbay Plastic Surgery, our surgeon has decades of experience and can provide Beverly Hills breast reduction services with results you will love! Call today at (310) 388-9383 to schedule your consultation.