A Brazilian butt lift uses fat transfer to improve the size and shape of the buttocks. When done right, you will see a rounder, more attractive shape. Unfortunately, your buttock's shape often cannot be significantly altered through diet or exercise. So a BBL is a great option for anyone who wants to enhance this part of their body.
When performed by a skilled surgeon, you can improve your results and minimize any risk. At Gabbay Plastic Surgery, our board-certified plastic surgeon has helped numerous patients with fully-tailored Brazilian butt lift procedures.
Dr. Gabbay's Brazilian Butt Lift Before & Afters
Types of Buttock Augmentation
Recent technological advances have provided for effective tools and surgical options to restore lost gluteal volume and create full, round buttocks. The two primary variations of buttock augmentation procedures include:
Augmentation with Fat Grafting
Augmentation with Silicone Implants
After evaluating your current physical health and goals, Dr. Gabbay will select the best procedure to fulfill your aesthetic objectives*.
Contouring Your Buttock Shape
A curvaceous backside can make the waist and thighs look smaller, which brings the torso into more pleasing proportions. For patients trying to achieve this ideal buttock shape, surgery may be the answer*. One of the most important variables associated with buttock augmentation is the patient's initial gluteal shape. No two bodies are alike. The specific shapes of the buttocks fall into the following categories:
A or Heart Shape
V Shape
Round
Square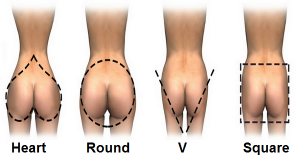 Although preferences vary, some of the most popular characteristics include:
A V-shaped crease (sacral triangle) arising from the end of the gluteal crease, with each line of the "V" extending toward the sacral dimples
Two mild lateral depressions that correspond to the bony process on the upper part of the femur
Two well-defined dimples on each side of the sacral crest that corresponds to the posterior-superior iliac spines (PSIS)
Is a Brazilian Butt Lift Right for Me?
If your buttocks do not match your aesthetic goals, then a BBL could be for you. Many patients have naturally less prominent butts and desire surgery to improve their shape. With age, the elasticity of our skin declines, and the distribution of fat and muscle change. This change can cause the shape of the buttocks to appear flat or droopy. Extreme dieting, exercise, or weight loss can also impact the appearance of our butts. These activities may leave us with large amounts of excess skin. For all of these concerns, a Brazilian butt lift can be the solution!
At Gabbay Plastic Surgery, Dr. Gabbay has gained recognition for his phenomenal Brazilian butt lift work. He has helped countless patients improve the appearance of their buttocks through augmentation.
A strong candidate for butt lift is an adult in good health with proper surgical expectations. Buttock augmentation is best suited for patients who:
Have lost significant weight and wish to restore the curves and contour of the buttocks
Want to bring their figure into better balance or proportion
Would like to enhance the size or shape of their buttocks
Want to add lift to a flat buttocks region
Desire a trimmer, more athletic posterior
Seek to improve the condition of drooping buttocks
If you think butt lift is for you, the first step is to schedule a consultation with Dr. Gabbay.
Over the past few years, gluteal implants have undergone significant improvements. Many previous problems with rupturing and unnatural-feeling implants have been corrected. The most popular gluteal implants today are made out of soft-solid (elastomer) silicone. They have a consistency that matches the natural tissue in the buttocks. Gluteal implants are typically used to enlarge the buttock region. However, in some cases, they are also used to treat problems with gluteal asymmetry, or for gluteal reconstructive purposes. There are several styles and sizes of gluteal implants. They vary in dimension and volume to suit a variety of tastes. Gluteal implants are specifically designed to augment the gluteus maximus muscle. This produces a more desirable shape to the buttocks*.
The Benefit of Butt Implants
Depending on the specific look you desire, Dr. Gabbay will review the implant shapes and sizes. He will help you find the perfect gluteal implants for your needs and goals*. Butt implant surgery offers several benefits, including:
Implants (silicone-based) come in a variety of shapes and sizes
Incisions made during the procedure are very inconspicuous*
Gluteal muscles keep the implant in place, so sagging is corrected
Gluteal implants offer long-lasting results*
Implants create a natural look and feel because they are covered by muscle, making the implant undetectable*
The deep placement and structure of the implant prevents the chance of implant rupture*
Brazilian Butt Lift Procedure
A BBL typically is performed as an outpatient procedure, so you can go home the same day. But, the procedure does involve anesthesia and sedation, so someone will need to drive you home. A Brazilian butt lift first involves the removal of the patient's fat from a donor site through liposuction. So, you also receive the added benefit of body contouring while improving your buttocks. The most common fat grafting areas are the:
The fat is then purified and injected into the buttocks using safe techniques. Dr. Gabbay injects most of the fat into the upper area of the buttocks to create a more lifted and fuller appearance. Using this technique, you can achieve a more natural and even appearance for your buttocks.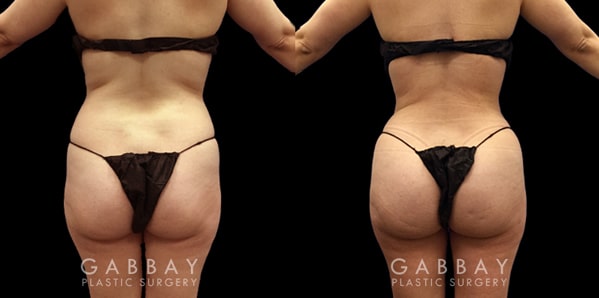 Brazilian Butt Lift Recovery
Dr. Gabbay will provide a complete list of instructions for your individual recovery. However, every patient will need to spend the first week or two getting as much rest as possible. The more rest you get, the better your results will be. Your total time in recovery will vary depending on your exact procedure. Any swelling and discomfort can be managed with medication. If you have any concerns at any point, do not hesitate to call us. 
We are always here for you throughout your recovery period and beyond. To create an environment conducive to the growth of fat, we recommend that you eat a high carbohydrate diet for 2-4 weeks. Also, avoid fat-burning exercises for the first two months. To keep direct pressure off of the buttock area, sleep on your back, and avoid wearing tight clothing or undergarments. Use a pillow or folded blanket placed under your thighs when you sit to avoid undue pressure on your buttocks. 
Once Dr. Gabbay approves of your recovery, you can gradually return to more physical activities. As the injected fat settles, you can expect an initial minor decrease in volume. However, once the remaining fat settles, your results will last for years to come.
Schedule Your Consultation Today
At Gabbay Plastic Surgery, our 
Beverly Hills plastic surgeon
 is committed to providing the absolute highest quality service available. Call us today to schedule your initial consultation!
Take your first step toward achieving your ideal self today. With a Brazilian butt lift, you can reach your aesthetic goals after all your effort. We look forward to helping you become the best version of yourself.
At Gabbay Plastic Surgery, our Beverly Hills plastic surgeon is committed to providing the absolute highest quality service available. Call us today at (310) 205-9500 to schedule your initial consultation!