Motherhood is a magical and deeply rewarding experience. Yet, pregnancy, childbirth, and breastfeeding take a heavy toll on the body. Some women reclaim their pre-pregnancy bodies. Others deal with a range of changes that can make you feel like your body isn't your own anymore. With a Mommy Makeover, you can reclaim your body and rebuild your aesthetic.
Dr. Gabbay's Mommy Makeover Before & Afters
What Is a Mommy Makeover?
A Mommy Makeover combines specific cosmetic enhancements to restore a pre-pregnancy body. Or even enhance your appearance to a whole new level. Dr. Gabbay understands the demands placed on mothers. He takes all the necessary steps to maximize results and minimize recovery time, so you can enjoy your rejuvenated body as soon as possible.
Pregnancy can bring about all manner of changes in your body. And many of these changes remain even after you have given birth. Common changes include:
Loose abdominal skin
Breast contour changes
New stubborn fat deposits
Abnormal pigmentation
Stretch marks
Cellulite
Frequently, exercise and diet alone are not enough to get back your pre-baby body. That is what a Mommy Makeover is for.
I like not only to be loved, but also to be told I am loved.
Build The Mommy Makeover That Is Right For Your Needs
Mommy makeovers are very customizable, depending on your goals. They generally include two or more of the following procedures:
During your consultation, we will create a unique Mommy Makeover treatment plan to make your aesthetic goals a reality. Taking back your pre-pregnancy body boosts your self-confidence and esteem. Get started today and schedule your initial complimentary consultation with Dr. Gabbay.
Am I a Candidate for a Mommy Makeover?
If you are ready to get your body back, you could be a Mommy Makeover candidate. A Mommy Makeover is a good option for women who:
Are in good physical health
Have realistic expectations
Maintain a healthy weight
Do not intend to become pregnant again
Do not smoke
Have found that diet and exercise have not yielded effective weight post-pregnancy weight loss results
Want to eliminate stretch marks and cellulite
Have sagging, deflated breasts
Evaluating Your Candidacy For The Mommy Makeover
The first step is to call 
Plastic Surgery Beverly Hills
 and schedule a consultation. To ensure the best possible results, Dr. Gabbay will discuss a few preliminary items. The discussion includes your expectations, along with how a Mommy Makeover surgery will impact your health and lifestyle.
During your consultation, some of the topics discussed will include:
Your medical history, including past conditions or surgeries
An accurate account of any medications or supplements you are currently taking
Use of tobacco or other drugs
Motivations for having a Mommy Makeover
Overall aesthetic goals
Dr. Gabbay will then conduct a medical analysis to see what procedures you could benefit from. If you are a healthy candidate for a Mommy Makeover, Dr. Gabbay will recommend a plan. Every step, Dr. Gabbay provides complete information about each aspect of your surgery. And always feel free to ask any questions!
Your Options In A Mommy Makeover
Most Mommy Makeovers involve a combination of the following procedures.
Tummy Tuck (Abdominoplasty)
During pregnancy, abdominal skin stretches and leaves loose folds in the stomach region. Weight loss after childbirth often does not resolve excess abdominal skin and stretched abdominal muscles. But, a tummy tuck surgery can!
Following pregnancy and breastfeeding, your breasts may appear smaller and deflated. To enhance the size or fullness of your post-pregnancy breasts, there is breast augmentation. Dr. Gabbay performs breast augmentation surgery using a saline or silicone implant*. We offer a full range of breast implants.
Breast lift surgery can correct the condition of post-pregnancy breast ptosis (sagging). A breast lift can also reduce the size of the areola, which sometimes becomes stretched during pregnancy. Breast lifts do not increase the size of the breasts. But, you can combine it with an augmentation!
A mommy makeover in Beverly Hills often includes a breast reduction. This is excellent for women whose breast cause symptoms of:
Poor posture
Back pain
General discomfort
A breast reduction removes excess skin, fat, and breast tissue. Dr. Gabbay will place the breasts in a more lifted and attractive position.
Liposuction is the process by which Dr. Gabbay removes excess fat through small incisions using surgical tubes. Liposuction removes those stubborn fat deposits that settle on the abdomen, thighs, arms, and back after pregnancy.
Other options that some women choose to include with their Mommy Makeover include:
Buttock Lift: Butt augmentation surgery is an excellent option to enhance and augment flat buttocks. Offers improved shape to the buttock and hip region.
Thigh Lift: Corrects loose skin folds around the thighs and buttocks after childbirth. Smooths and tones the skin, giving you a youthful appearance.
Neck Lift: A neck lift can smooth the neck and define the jawline. Tightens the neck muscles and removes excess fat.
Arm Lift (Brachioplasty): Removes the excess fat and skin under the arms.
Face Lift: Reduces wrinkles and creases while lifting facial contours to give a fresh, youthful look.
Belly Button Surgery: Pregnancy can change the navel dramatically. This surgery reshapes the belly button or makes a new one if necessary. Often performed in conjunction with a tummy tuck.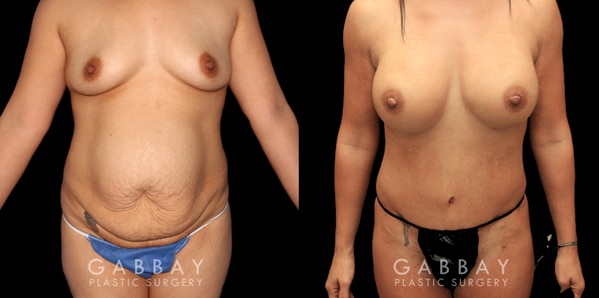 Mommy Makeover Procedure & Recovery
The Mommy Makeover surgery ranges in time from 3-6 hours. The time depends on your treatment plan and how many procedures you elect to undergo. Depending on how many procedures you had, you may be able to go home the same day.
Your recovery period also depends on your treatment plan. Most patients who receive Mommy Makeovers typically return to normal daily activities after two to four weeks. If you have many procedures, this might take a bit longer.
In most cases, Dr. Gabbay advises patients to wait four weeks to resume strenuous activity, including heavy exercise and sexual activity. Giving your body time to fully heal is essential for the best results.
You should arrange for household help following the surgery. Enlist a friend or family member to drive you home on the day of the procedure. In most cases, Mommy Makeover patients wear a support garment for several weeks after surgery. This will optimize your post-makeover figure. Bruising and swelling are normal, although this will fade within a few weeks to one month.
Following your Mommy Makeover, you will have some degree of discomfort. But this can be managed with proper medication. If you have any questions or concerns during this time, we are always here for you.
To have optimal results, be sure to follow Dr. Gabbay's instructions completely. Immediate results are often obscured by swelling or discoloration. But typically, within 1-2 weeks, you will be able to appreciate the new you! While some results will be visible sooner than others, your body will continue to heal and improve. As the swelling subsides, it will continue to reveal a shapely body that you can maintain by living a healthy lifestyle for years to come.
Schedule Your Consultation Today
The first step to reclaiming your pre-baby body is to schedule your consultation. We work closely with each patient to develop the best plan for you and your goals. Dr. Gabbay and his staff are by your side every step of the way, for a professional and comfortable experience. Call us today to learn more and get started on your Mommy Makeover path!
If you have any questions, our skilled team at Gabbay Plastic Surgery has decades of experience to help you make your decision. Call today at (310) 205-9500 to schedule a consultation and find out if a Beverly Hills mommy makeover may be right for you!
Frequently Asked Questions