With age, our tissues lose much of their firmness and elasticity. One area this becomes very apparent are the breasts. Fortunately, a breast lift restores a youthful appearance to your breasts by reshaping your breast contour and shape.
Dr. Joubin Gabbay M.D. is an experienced 
plastic surgeon in Beverly Hills
 who performs breast lift surgery for women who want to rejuvenate their breasts. He will work closely with you to develop a treatment plan to bring your breast surgery goals to fruition.
Dr. Gabbay's Breast Lift Before & Afters
What Can A Breast Lift Do?
A breast lift mostly focuses on delivering improved shape and contour. But it can also reduce or reshape the size and appearance of the skin around the nipple (areola). The goal of a lift is to raise and reshape sagging breasts without impacting their size.
This is different from 
breast augmentation
, which increases the size and volume of the breasts. It is also different than a breast reduction, which reduces the size of the breasts. But you can combine a breast lift with augmentation! The goal is to simultaneously lift and increase the size of their breasts within one procedure.
The world's big and I want to have a good look at it before it gets dark.
There are several variations of breast lift surgeries. They differ primarily in the incision pattern used during the operation. During your consultation, we work with you to determine what best suits your needs and goals.
The anchor lift is the traditional technique used in a breast lift procedure. It receives its name because the scar from this breast lift looks like an anchor. The anchor lift primarily helps breasts with severe sagging.
The anchor lift is the traditional technique used in a breast lift procedure. It receives its name because the scar from this breast lift looks like an anchor. The anchor lift primarily helps breasts with severe sagging.
The lollipop lift involves two incisions:
One around the perimeter of the areola
And one that runs vertically down from the areola to the breast crease
The lollipop lift is for women who have a moderate degree of breast sagging (ptosis).
The Donut Lift (periareolar lift)
The donut lift, also known as the periareolar lift, involves an incision around the outside of the areola. This type of breast lift is suitable for mild-to-moderate sagging.
The crescent lift involves an incision just along the upper half of the areola. It is typically performed in conjunction with breast augmentation. It is appropriate for women with mild cases of sagging.
Breast sagging, medically known as breast ptosis, is identified in different degrees ranging from mild to severe.
What causes breast ptosis?
Sagging and loss of skin elasticity can result from:
Significant fluctuations in weight
Pregnancy
Breastfeeding
Illness
Gravity
Heredity
Aging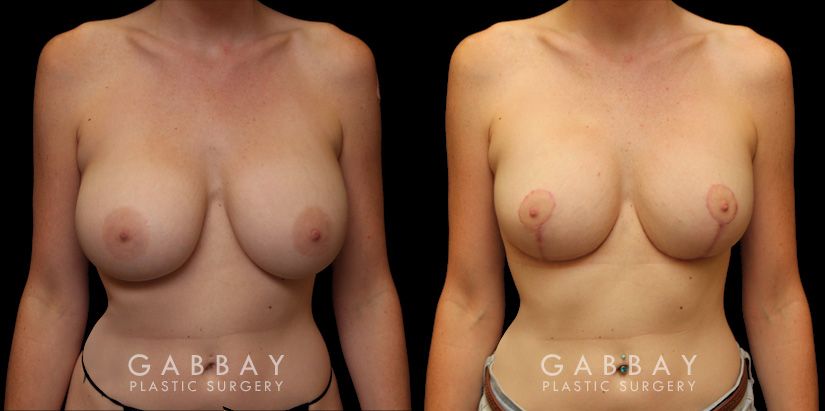 Call today
for a consultation!
Types Of Breast Lift with Implant
Some of the surgical techniques utilized during breast augmentations with a lift include:
Periareolar Breast Lift With Implants
Periareolar Breast Lift option is designed for women who need more volume but only minimal elevation of the nipple and breast. The periareolar lift with implants involves an incision encircling the areola (making it almost invisible) and the removal of a doughnut-shaped piece of skin from around the areola before inserting the implant into the breast through the incision. To reduce the size of the areola, extra skin is removed and the areola is repositioned before the skin is sutured closed. During the periareolar lift, the areola is trimmed and lifted: not removed and sutured back on as in other procedures.
Vertical Breast Lift With Implants
Vertical Breast Lift option is ideal for women suffering from inadequate breast size and mild to moderate breast ptosis. This procedure involves removing excess skin from the bottom of the breast and the insertion of a breast implant through the lower part of the incision. The deep layer of the breast tissue is sutured together to shape the breast before the areola is moved into a higher position. This procedure has also been referred to as a "lollipop" lift, because the appearance of the scar around the areola and straight down the center of the breast resembles a lollipop. Normally, a vertical lift with implants does not cause puckering of the skin around the areola, although it does leave the breast implants high and the bases of the breasts tight and flat. A few weeks after surgery, the implants will drop and the breasts will soften.
Inverted T-Lift with Implants
Inverted T-Lift option is best suited for women with minimal breast volume, and moderate to severe breast ptosis, with excess skin at the base of the breast. During this procedure, much of the lower and central breast skin is removed before an implant is inserted through a deeper incision at the base of the breast. In addition to skin removal and tightening, the deep layer of breast tissue is sutured together to shape the breast before the areola is placed into a higher position and the skin is closed around the areola, down the center of the breast, and across the bottom of the breast fold. The resulting scar is similar to an upside down "T," and this procedure is the most extensive lift, involving more incisions due to the amount of skin removed.
Evaluating Your Candidacy
If you are interested in enhancing the size and shape of your breasts, the next step is to call Gabbay Plastic Surgery and let us schedule your initial consultation with Dr. Gabbay. As a professional surgeon with vast experience and training, Dr. Gabbay will discuss your goals and recommend a customized treatment plan that is designed specifically for your individual needs.
During your consultation, you will be asked about your desired breast size and shape, as well as any other breast-related concerns you have. Dr. Gabbay will examine your breasts and evaluate the quality of your skin and anatomy, in order to determine what breast procedure is best for your frame and body type. If you are a good candidate for a breast augmentation with a lift, Dr. Gabbay will discuss the type of implant, incision location, placement options, and breast lift surgery details with you. If you smoke, you will be required to stop at least six weeks before and after your procedure, as smoking can cause surgical complications.
Breast lift surgery (mastopexy) and breast augmentations can be approached as a "staged" procedure, where one surgery is performed alone and the results are assessed before the second surgery is performed 3-6 months later. However, in most cases where a breast augmentation and breast lift are desired, Dr. Gabbay will combine the surgeries as a single operation so his patients only have to undergo one procedure.
Are You A Good Candidate For Breast Lift Surgery?
Breast sagging begins when the connective tissues of the breasts stretch and become weak. This causes the breast to lose its volume.
You may be a great candidate for a mastopexy if your breasts:
Lack firmness
Are small and drooping
Appear flatter after weight loss
Are deflated from pregnancy and breastfeeding
Appear elongated in shape
Lack fullness
Seem pendulous (hanging)
Have nipples that point downward
Have unsupported nipples that fall below the breast crease
Enlarged areolas
Areolas that point downward
Stretched skin
Are asymmetrical in shape, size, or position
Are heavy
The best candidates for a mastopexy are healthy women who are satisfied with the size of their breasts but not with their shape or firmness.
Many women choose to undergo a breast lift before having children and go on to breastfeed successfully. It is important to note that having a lift will not prevent the breasts from drooping again.
Dr. Gabbay will discuss your options in detail during your consultation to determine when and if a breast lift is right for you. Dr. Gabbay will place incisions in inconspicuous locations so that a bra or bathing suit will obscure scarring.
During your initial mastopexy consultation, Dr. Gabbay will conduct a thorough medical assessment. The two of you will discuss your medical history in detail. Being completely open and honest helps avoid unnecessary complications and ensure a rewarding outcome.
To determine if a breast lift procedure is appropriate for you, Dr. Gabbay will:
Examine your breasts to determine the degree of ptosis
Check nipple position
Assess the looseness of your skin
Establish how much excess skin you have
Verify the size and position of your areola
If Dr. Gabbay determines that you are a healthy candidate for a breast lift, he will explain the surgical options. He will include full information about every step and aspect, so you are never in the dar.
About The Breast Lift Procedure
Dr. Gabbay and his staff are committed to making your breast surgery as safe and comfortable as possible. A breast lift is an outpatient procedure, meaning you will go home the same day.
It generally takes 1-4 hours to complete, depending upon how complex your surgery is. Once under the right anesthesia for you, Dr. Gabbay will make the necessary incision(s). He then reshapes your breasts according to your treatment plan.
For women who desire larger breasts, Dr. Gabbay inserts implants during surgery. This is called a breast augmentation with a lift. Dr. Gabbay will complete your operation by closing your breast incisions with sutures.
Your breast lift recovery time will depend on the specifics of your surgery and your healing capacity. Following your procedure, you can expect some swelling and bruising. You will wear a compression garment over the gauze dressings to minimize swelling.
You may be uncomfortable for a couple of days. But the pain can be easily controlled with pain medications if necessary. Walking and getting out of bed for brief periods is advisable. However, you should avoid and strenuous activity. These activities will increase your risk of developing complications.
Bruising typically disappears after 2-3 weeks, while any swelling should subside over 4-6 weeks. We provide checkups after surgery and are always available for any questions. After each breast lift, we provide you with complete instructions to maximize your results.
As with any surgery, breast lift complications are possible, and may include:
Scarring
Infection
Anesthesia complications
Bleeding
Wound separation
Asymmetry
Loss of sensation
Hematoma (break in a blood vessel)
Seroma (collection of fluid under the skin)
If you could be happier with the position of your breasts, our team at Gabbay Plastic Surgery boasts a Beverly Hills plastic surgeon with decades of experience. Call today at (310) 205-9500 to schedule your initial consultation!
Breast Lift Procedures Frequently Asked Questions